Consumer Advisories
COVID-19
October 14, 2021: At this time, the Nova Scotia Government does not specifically address the real estate industry in their list of places that requires proof of full vaccination. However, licensees should keep in mind that trading in real estate may involve meeting with multiple groups of people, conducting meetings, viewings or open houses indoors, and traveling across the province, all of which could increases the risk of exposure to COVID-19. Licensees and consumers must follow the public health measures as required by the government and may continue to follow them as safety precautions even as we move forward to "living with COVID-19." The Commission is continuing to monitor the COVID-19 orders, directives and guidelines from the government. We will continue to communicate with the industry as information is made available. To view the Commission's news bulletins, which include the latest updates on COVID-19, click HERE.
Vaccination and Open Houses
October 14, 2021: Consumers should be aware that private viewings and open houses do not require proof of vaccination per the government's Proof of Full Vaccination Policy. Buyers can ask if the seller has instructed their licensee that proof of vaccination is required for anyone entering the property for a specific open house.
To read the full Commission news bulletin "COVID-19 Update - October 14, 2021," click HERE.
September 15, 2021: Regardless of phase, licensees are expected to have conversations with their clients about COVID-19 safety measures that may be in their best interest. Sellers may instruct their listing licensee that everyone who enters their home is required to wear masks, gloves, sanitize, and/or provide proof of vaccination. Licensees must follow the lawful instruction of their clients.
To read the full Commission news bulletin "COVID-19 Update - September 15, 2021," click HERE.
Scammer Alert on Kijiji
September 17, 2021: It has been brought to the Commission's attention of a recent rental scam on Kijiji. The scammer pulled pictures from an MLS® listing of a vacant property and created a rental advertisement as part of a deposit theft scheme. The Commission is advising licensees of this issue so they can inform their sellers and buyers of this ongoing rental scam. The Commission advises that if you, or someone you know, is targeted by a scammer to please contact the police.
Moving Scams
The Better Business Bureau, along with the Canadian Association of Movers wants to remind the public about the risk of moving scams and how you can protect yourself. To contact the Better Business Bureau, visit www.BBB.org.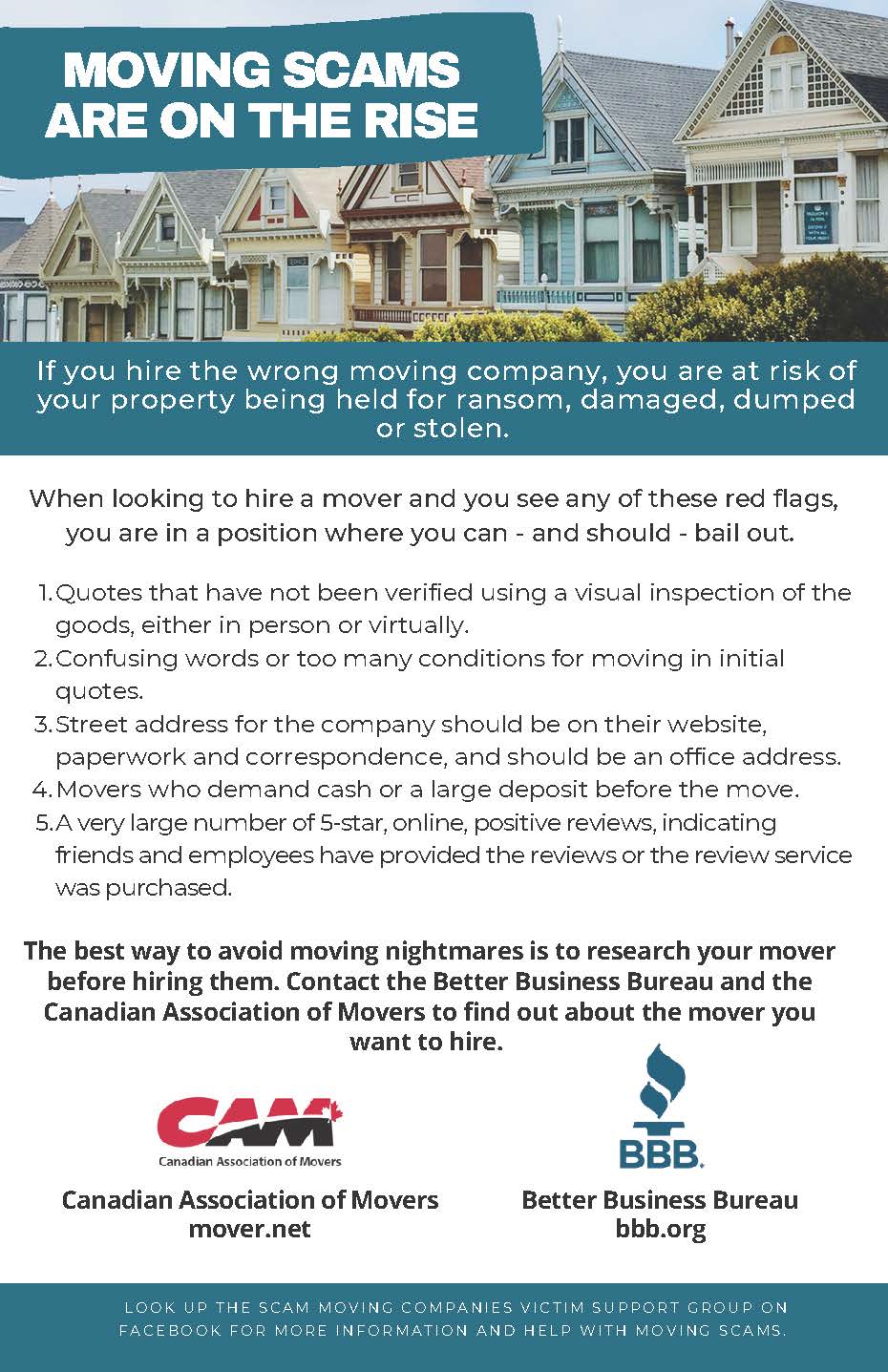 Licence Suspensions
For information about disciplinary decisions and licence suspensions: