News Bulletin - June 10, 2021
Reminder to Brokers: APS Deposit Clause 1.3
Mandatory CPE Course Deadline Reminder: June 15
Broker Reminder: Licensing Renewal Deadline - June 30
Reminder to Brokers: APS Deposit Clause 1.3
The Commission reminds brokers that deposits larger than the amount of remuneration that will be owed must be held in trust as per clause 1.3 of the Agreement of Purchase and Sale. Excess funds cannot be held in the brokerage's trust account once all conditions are met, unrelated to title.
Clause 1.3 of the Agreement of Purchase and Sale states: "The Buyer and Seller agree that any deposit held in trust by the Brokerage per clause 1.1, that is in excess of the remuneration (including HST) due to that Brokerage on closing of the transaction, shall be transferred to the Seller's lawyer's trust account once conditions unrelated to title have been met. These funds shall remain in the Seller's lawyer's trust account until closing."

If the agreement in question was not written on the Commission's Agreement of Purchase and Sale, and it did not contain a similar clause addressing early release of trust funds, per the Audit Policy, page 15, 1-D: "Early release of trust funds must be in accordance with the written agreement of all the parties or the respective lawyers' written instructions," an amendment is required to release the funds prior to closing.
Mandatory CPE Course Deadline Reminder: June 15
Licensees are required to complete the online course, All About Offers: Relationships, Contracts, Communication & Disclosure, by Tuesday, June 15th, 2021. There are currently still 274 licensees who have not completed the course.
Any licensee who does not complete their course by June 15th will not be able to renew their licence. Their licence will terminate effective July 1st and they must immediately cease all trading activities. The course will be unavailable from June 16th - July 11th.
This course is available now until June 15th via the NSAR Training Hub. Non-NSAR members can contact the NSAR Education Department. Questions can be directed to Claire Beck at
This email address is being protected from spambots. You need JavaScript enabled to view it.
.
Broker Reminder: Licensing Renewal Deadline - June 30
The deadline for licensing renewals is June 30th. Licensees who have not renewed their licence by June 30th will have their licences terminated effective July 1st and must immediately cease all trading activities.

Since licence renewals opened on May 10th, 1272 licensees and 118 brokerages have renewed their licences. Another 96 licensees have logged in and responded to the renewal questions, but have not yet applied payment to their account.

Brokers are responsible for renewing the brokerage licence, audit fees, any branch office licences, their broker licence, and, if applicable, their approved sales corporation licence. All other licensees are responsible for renewing their real estate licence and, if applicable, their approved sales corporation licence.
New Brokerage Licensing Report
A new brokerage licensing report has been added to the Brokerage Dashboard in the NSREC online portal. The new report, Due Renewals, displays the renewal status of all licensees at the brokerage. Licensees who have renewed appear as "current" and licensees who still need to renew appear as "Due for Renewal". Brokers can access the Due Renewal report from the Brokerage Dashboard by clicking the Brokerage Reports button and then the Due Renewals Button.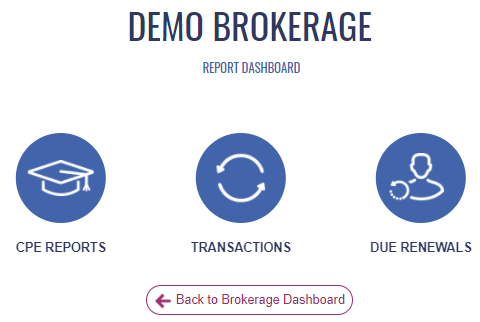 If You Need Help
The
Licence Renewal Resource
page is available with video tutorials, a user manual, and important information about payment methods and deadlines.
If you did not receive an invoice or you need help completing your renewal, email
This email address is being protected from spambots. You need JavaScript enabled to view it.
.