News Bulletin - April 14, 2022
Annual General Meeting on April 21st
Election Opens Monday, April 18th
Annual Report Available
Annual General Meeting on April 21st
The Commission's Annual General Meeting (AGM) will be held virtually via Zoom on Thursday, April 21st at 10am. The notice for the meeting will be sent out at 8am the morning of the AGM and will include instructions to join the meeting as well as the agenda. If you have questions about the Commission's financial statements that you would like to have addressed at the AGM, please send your questions to This email address is being protected from spambots. You need JavaScript enabled to view it..
Election Opens Monday, April 18th
The election for a seat on the Commission's Board of Directors opens on Monday at 9am and closes on Wednesday at 4pm. Licensees will receive an email from the domain bigpulse.com with the subject line: Cast your ballot in the 2022 NSREC Board of Directors Election. Check your junk/spam folder if you do not see this email in your inbox. Once the election opens, reminder emails will be sent daily to licensees who have not yet cast their vote.

The body of the email will look like this: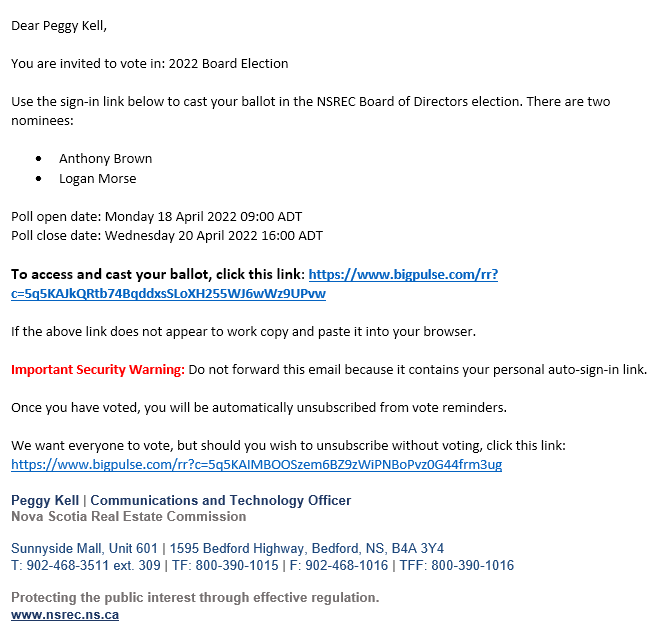 If you have questions about the election, please contact Peggy Kell, Communications and Technology Officer by email at This email address is being protected from spambots. You need JavaScript enabled to view it..
Annual Report Available
The 2021 Annual Report is now available on the Commission's website. View it HERE.