News Bulletin - April 20, 2018
Online Voting Opens on Monday, April 23, 2018
This newsletter contains important information about the Board Member Election.
Online Voting Opens on Monday, April 23, 2018
On Monday, April 23 at 9 a.m., the voting polls will open to elect your representative for the NSREC Board of Directors. Licensees have until Wednesday, April 25 at 4 p.m. to cast their ballot.
Licensees will receive an email from This email address is being protected from spambots. You need JavaScript enabled to view it. (the Xs replaced with five digits) with the subject line: NSREC Board Member Election 2018: Cast Your Online Ballot. Check your junk/spam folder if you do not see this email in your inbox. Reminder emails will be sent.
The body of the email will look like this: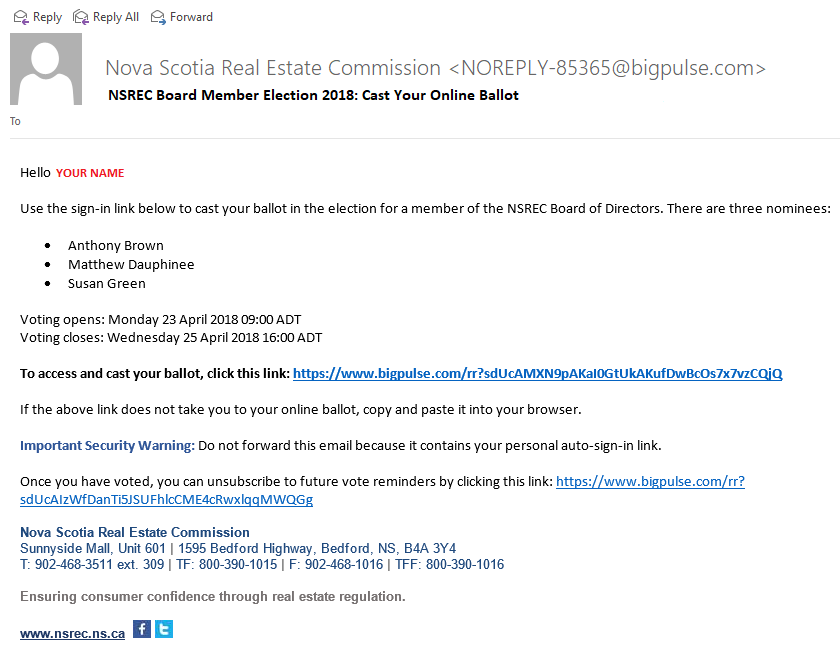 To view the three candidates' bios, click here.
If you have questions about the election, please contact Peggy Kell, Communications and Technology Officer via email at This email address is being protected from spambots. You need JavaScript enabled to view it. or by phone at 902-468-3511 extension 309.